US Free and Cheap Tuition Universities: The quote (below) is one of the letters we recently received from Sharon (real name withheld) who lives in Lagos, Nigeria.
"My youngest son was getting ready to study in a university in the US, before the advent of the COVID-19; I am really worried because it has affected not just my business but my husband's job. I really do not think we can afford for him to study in the US, could you please tell me what I should do, I need to ensure my son's education does not suffer, and that he gets into school in the next academic section but money is tight now, he is my world please help me".
I was truly moved by Sharon's letter and that of others who had shared their fears and how expensive it is for their kids or them to get a good education outside their country, knowing how super-difficult it is to come by a cheap degree program nowadays, particularly in the US, we decided to put together 10 tuition-free schools in American among which are some cheap but not entirely free schools (US Free and Cheap Tuition Universities), our hope is that we can make it possible for any student if not every student, to get an education outside their country if they want to, either with a significant reduction in fees or zero fees.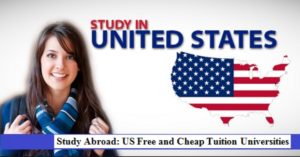 Let's jump right in – (US Free and Cheap Tuition Universities 2020).
      1.      BEREA COLLEGE
Zero tuition, no kidding! This is one of the American top colleges that makes a no-tuition promise to all enrolled students which also comes packaged with a promise of scholarship, making it very possible for you to graduate debt-free.
This has in no way reduced the standard of Berea. Berea College offers 49 major programs for the degree-granting certificate program for each academic year. So, BEREA COLLEGE  is one of such schools you can't skip when taliking about US Free and Cheap Tuition Universities.
ENTRY REQUIREMENTS
Admission to Berea College is academically competitive. with a limited number of spaces in each year's entering class, students who have strong academic potential and financial difficulty are usually accepted. here are some of the requirements;
1.ACT (or SAT equivalent) score between 20 and 30 with a cumulative high school GPA of at least 3.0.
2. Participation in community service, leadership qualities.
3. Four (4) units of English (including composition, rhetoric, and literature)three (3) units of mathematics (at least algebra i, algebra ii, and geometry)two (2) units of laboratory science two (2) units of social science/history (including world history)two (2) units of a foreign language
4. High school transcripts and official score reports are required.
      2.      WASHINGTON STATE UNIVERSITY
LOCAL TUITION $11,584
That second-largest institution for higher education in Washington State, founded in 1890, WSU is a public research university in Pullman, Washington. WSU has taken advantage of the academic technologies to bring their courses to life in an online format; their faculty includes world-renowned researchers and industry experts dedicated to teaching.
ENTRY REQUIREMENTS
Okay, you know how that bugging question keeps coming up in your mind "will i get accepted"? Well, with 77% acceptance rate you probably might. Admission application must include the following;
1.Transcripts
2.Proof of English language proficiency
3.Certificate of finances
4.Identity verification (passport or national id)
       3.      ALICE IIOYD COLLEGE
TUITION FEE: $12,230
This private non-profit college established in 1923, has an administrative selection, acceptance rate of 8%.Alice Iloyd College's ranking in the 2020 edition of best colleges is regional colleges south, #21.
We couldn't find any data on Alice lloyd college online degrees. This means either the school doesn't offer any online degrees, or the information is not available.
ENTRY REQUIREMENTS
Alice Iioyd College has the average entry requirements with a few personalized once;
1. GPA requirements
2. Testing requirements, including sat and act requirements
3. Application requirements
      4.      CURTIS INSTITUTION OF MUSIC
TUITION FEE:  $2,525
With a small student body of about 175, Curtis institution of music educates has trained exceptional, gifted young musicians to engage a local and global community through the highest level of artistry.
Talent and artistic promise are the only consideration for admission at Curtis Institution of Music.
ENTRY REQUIREMENTS
We will only focus on a few critical requirements here:
1. GPA requirements
2. Testing requirements, including sat and act requirements
3. Application requirements
Visit school: https://www.coursera.org/curtis
      5.      THE CITY UNIVERSITY OF NEW YORK (CUNY)
TUITION FEE(s):
New yoke state residents/ full time four years college $6,930 per year
full-time community college $4,800per year
out of state residents/ full time four years college $18,600 per year.
Plus you could always apply for financial aid or scholarship.
Providing quality, accessible education regardless of background or means has been Cuny's mission since 1847. one of the main missions of Cuny is to make a great education accessible and affordable.
A Cuny education actually cost a fraction of what you will have to pay at private institution
http://www.cuny.edu/admissions/undergradu
ENTRY REQUIREMENTS
1. GPA requirements
2. Testing requirements, including sat and act requirements
3. Application requirements
      6.      ALCON STATE UNIVERSITY
TUITION $7,084
Alcorn State University – historically black, public university in Lorman, Mississippi; Established in 1871 it was the first black land grant in the United States. Basically, Alcon has been a home for the black student community over the years.
If you are looking into studying any of these courses, education, medicine, law, business, and becoming a professional athlete, then this is the right fit.
ENTRY REQUIREMENTS
Admission for 2020; to become an Alconite you can apply via the website www.alcon.edu
Provide information for all required fields
Accurate email address
Social security number
Then click the submit application link
      7.      MINOT STATE UNIVERSITY
Tuition in the state; $7,288
Tuition out of state; $7,288
Minot State University currently is ranked as the 32 regional universities in top public school.
Minot online/ distance learning is not among the online university that began due to the COVID-19; they already had a strong online/distance learning presence before COVID-19. They have been online for more than 22years and the online is also affordable just like the onsite.
ENTRY REQUIREMENTS
Prospective international freshmen and transfer international students may apply online at www.minotstateu.edu . Once the online application is submitted, the following supporting documentation must also be submitted by the appropriate deadline:
Application for form i-20
Certification of financial responsibility
Official entrance exam score
Official records demonstrating prior academic achievement
International transfer student form (if applicable)
A $35 non-refundable application fee
Biographic page of the passport
Supporting financial documents
Deadlines for Admission
Fall semester: June 15 for application and all supporting documentation.
Spring semester: October 15 for application and all supporting documentation.
      8.      WEBB INSTITUTE
TUITION; $50,175
Webb Institution isn't your typical engineering college, all students are granted a full scholarship but for citizens and permanent residents only, the rest of "you" have to pay, but then again Webb institution is far cheaper than most private schools.
We could not find any information on the Webb institute online/ distance learning course. This could either mean that the school does not offer an online degree, or that information hasn't been made available.
ENTRY REQUIREMENTS
1. The average GPA formally recognized by Webb Institute is 3.15. Webb Institute does not require GPA. Nevertheless, be mindful that schools in the bid to increase their prestige are currently increasing their other requirements since we are no mind readers, it will be safe to gun for a 3.31 GPA.
2. Join a school activity, school club, sports team. i recommend that you research and find out what activity Webb is more interested in, for example, if they like sport then you should participate in your school sports team.
3. Join or begin a volunteer program. Webb Institute wants applicants that are also good ambassadors for their school. (what school doesn't)?
4. Spend your school breaks with activities that speak volumes to your values, personal growth, and leadership qualities than other less suitable characteristics. Most institutes nowadays want to see past your grades and test scores – they need to know that you are more than grades and test scores – your experiences should demonstrate that.
      9.      FRANKLIN W OLIN COLLEGE OF ENGINEERING
TUITION $52,844
This is a private institution in a semester-based academic, calendar, established in 1917, located forty miles from Bishop, California, it's situated on an isolated cattle ranch in deep Spring Valley.
Each admitted student receives a full scholarship, which covers the cost of accommodation, tuition, and board. worthy of note is that deep spring isn't the end game for most student, they transfer to a four years institution to finish their BA, or BS, usually after completion the deep spring two years program.
If you need more information, you can find at: https://pdc.wisc.edu
ENTRY REQUIREMENTS
Currently, the application for this academic year is closed, but we promise to keep you informed with the new date. The regular admissions application deadline for Olin College is January 1.
Olin College admissions are very selective with an acceptance rate of 16%. Students that get into Olin College have an average SAT score between 1460 and 1550 or an average ACT score of 34-35.
      10.   CALIFORNIA STATE UNIVERSITY
TUITION:
Californian Residents $6,768
Out of state residents $18,648
The California State University or Cal is a public university located in California like the name implies in long beach, being the largest four-year public university system in the US with 23 campuses.
ENTRY REQUIREMENTS
Here are the application date and deadlines;
Winter 2020: June 1, 2020 – June 30, 2020
Spring 2021: August 1, 2020 – August 31, 2020
Fall 2021: October 1, 2021 – November 30, 2020
Online/ Distance Learning;
A California State University online degree, curriculum, and professor are exactly the same, degree, curriculum, and professor you will receive if you attended the onsite program on campus. So by studying online you truly are not missing out on anything.
Well… we must say the list here is not comprehensive enough but that is a handful of free and cheap tuition universities in USA you can choose from.
If you find this post useful, please always let us know at the comment section. Sign Up for our newsletter for more useful tips and study abroad opportunities.